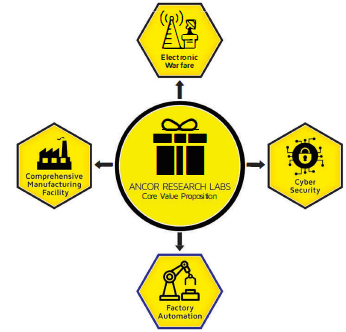 Ancor Research Labs is a research-oriented technology company driven by the core values of invention and innovation.

Our story began in 2012 when the company was established with a vision of Self-Reliance and Make-in-India in the Defence & Aerospace sector. Our primary focus has been Intelligence, Surveillance, Reconnaissance (ISR), Cyber Warfare (CW) and Field Informatics & Automation (Fl&A). As a result of relentless developmental efforts, we are proud, that our world-class & indigenous Electronic Warfare (EW) products and systems have been inducted into active service since last few years.

As our expansion and diversification plan, we have acquired 1.1 million square feet of industrial complex for establishing a Comprehensive High Precision Manufacturing Facility and Flexi Test Ranges (within the UP Defence Industrial Corridor). This manufacturing infrastructure base, synergized with our R&D expertise and, acquired bank of technologies, is all set to yield multiple product lines and complex systems, indigenously.